Regular price
Sale price
$9.00 USD
Unit price
per
Sale
Sold out
Mint oil It is extracted by distillation of leaves and flowers from the mint plant (mentha piperita), an aromatic species, used from ancient times by its therapeutic properties.
Currently, Mint oil is widely used in cosmetics and aromatherapy, for its numerous benefits, as well as for its Excellent aroma. It also has applications at home, where it can be a good ally thanks to its antiseptic properties.
Mint essential oil has active ingredients such as mentol, the loyal or limonene. In addition, it is also rich in essential fatty oils.
Mint oil properties
These are the most important properties of piperite mint:
Cosmetic properties:
Antibacterial and natural, antiseptic, anti -inflammatory and astringent bactericide, mint essential oil is used in cosmetics, for example, to treat acne. On the other hand, its anti -inflammatory and decongestant properties make it an excellent option to relieve tired and swollen legs.
Therapeutic properties:
 Mint essential oil is refreshing and relaxing, helps relieve muscle aches, such as contractures, also serves to calm nerves and anxiety, as well as to facilitate sleep.
Digestive properties:
 In addition, mint piperite oil has spasmolytic properties, and helps moderate pain and facilitate digestion.
Natural repellent:
 Its perfumed and refreshing aroma acts as a natural repellent of insects.
Antifungal action:
Another of the properties of mint oil is its antifungal action. It is a very effective natural remedy to combat nail and skin fungi.
What is mint oil for?
Mint oil is, on the one hand, a usual ingredient of many cosmetics, both for face and body care, and hair. It is also part of deodorants and dentifric paste, to which it brings freshness and good flavor.
But, in addition, it is possible to use mint essential oil alone, for natural care. If you decide to do so, be sure to choose a 100% pure and better essential oil if it is ecological, that is, it has been prepared from raw materials of natural agriculture, without toxic or pesticides.
We review, then the main uses of mint oil:
In the

 

hair, mint oil

 

 provides hydration and freshness,

 

It also relieves scalp itching, reduces dandruff and fat. And it is a repellent of lice.
In the

 

face, mint oil is an ally for

 

 Treat acne, as well as to reduce excess tallow in fat and mixed skins.

 

It also increases skin hydration, fighting aging, thanks to its vitamins A and B.
In the

 

skin

 

of the body, mint oil

 

 Refresh, decongest and serve to improve cellulite.

 

It will help you, for example, relieve insect bites; Also to fight the heaviness of the legs, usual when it is hot; and to cool the skin after an intense day of sun.
On the other hand, mint oil is a good ally for

 

Relax the muscles

 

And it can be used to massage contractures, as well as relieve pains such as menstruation, headache or stomach.
In the

 

homeIt also has various uses. It can be used in an essential oil diffuser for

 

 Aromatize any stay, relax the atmosphere and keep mosquitoes in summer.

 

Another option to use mint oil at home is to add some droplets to the water, to clean the soil or any surface. In addition to leaving a pleasant smell, it acts as a disinfectant.
Finally, mint oil helps

 

Improve cold symptoms, decongesting the nose, having expectorant properties. To do this you can use an essential oil diffuser, or incorporate a few drops of mint oil in hot water and breathe for a few minutes just above.
Mint oil for hair
One of the most wanted uses of mint oil is for the Hair care. And some investigations suggest that mint strengthens hair and contributes to its growth, fighting one of the problems that most concern: the capillary fall.
The menthol, which is one of the main ingredients of mint oil,  Activate circulation in the scalp, oxygenating it and making it healthier. A healthy scalp is essential to have a healthy hair.
On the other hand, mint oil also prevents dandruff, another problem that generates a lot of concern by really unstretched. And as in the skin, it helps regulate excessive sebum production that causes a fatty appearance in the hair.
If you want to have your healthy hair, you can add a few drops of mint essential oil to your usual shampoo. In this simple way you can take advantage of all your hair benefits.
Ingredients

Made with 100% Natural Essential Oils
How to use?

With essential oils, avoid contact with sensitive areas.

Serums with oils can only be applied at night.
Shipment

Spain:

1-2 business days

Free shipping from €50

Europe:

5 working days

Free shipping from €100
returns

Due to the content we do not accept returns.

If you have any problems you can always contact us by email.
Compartir
View full details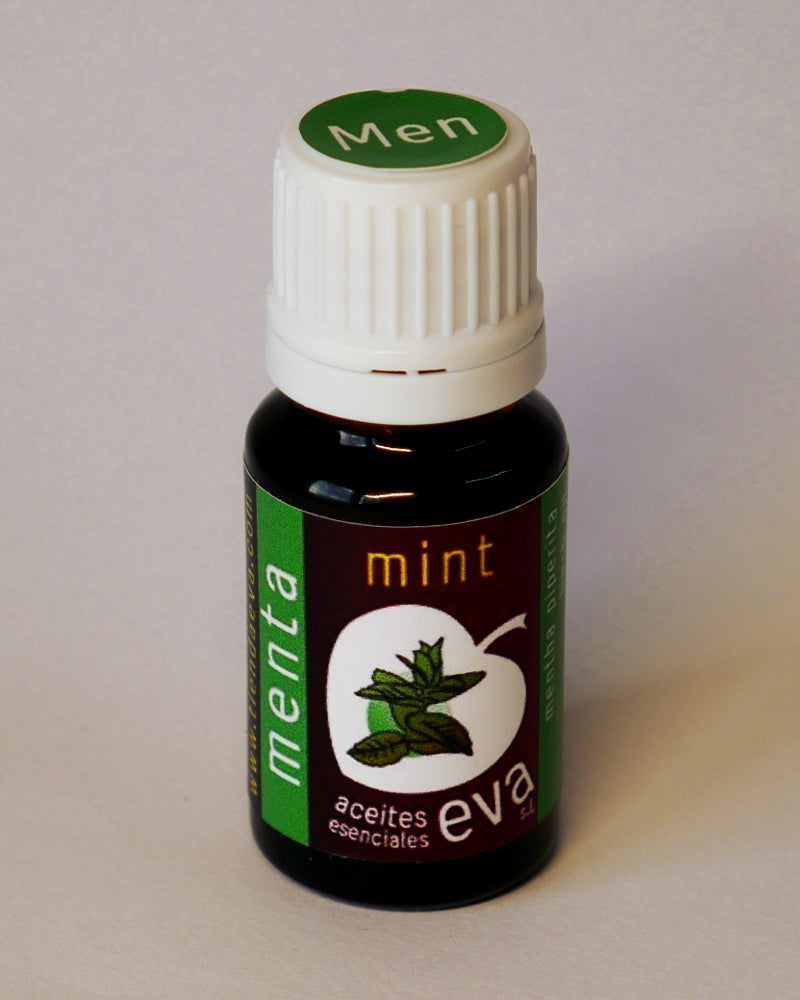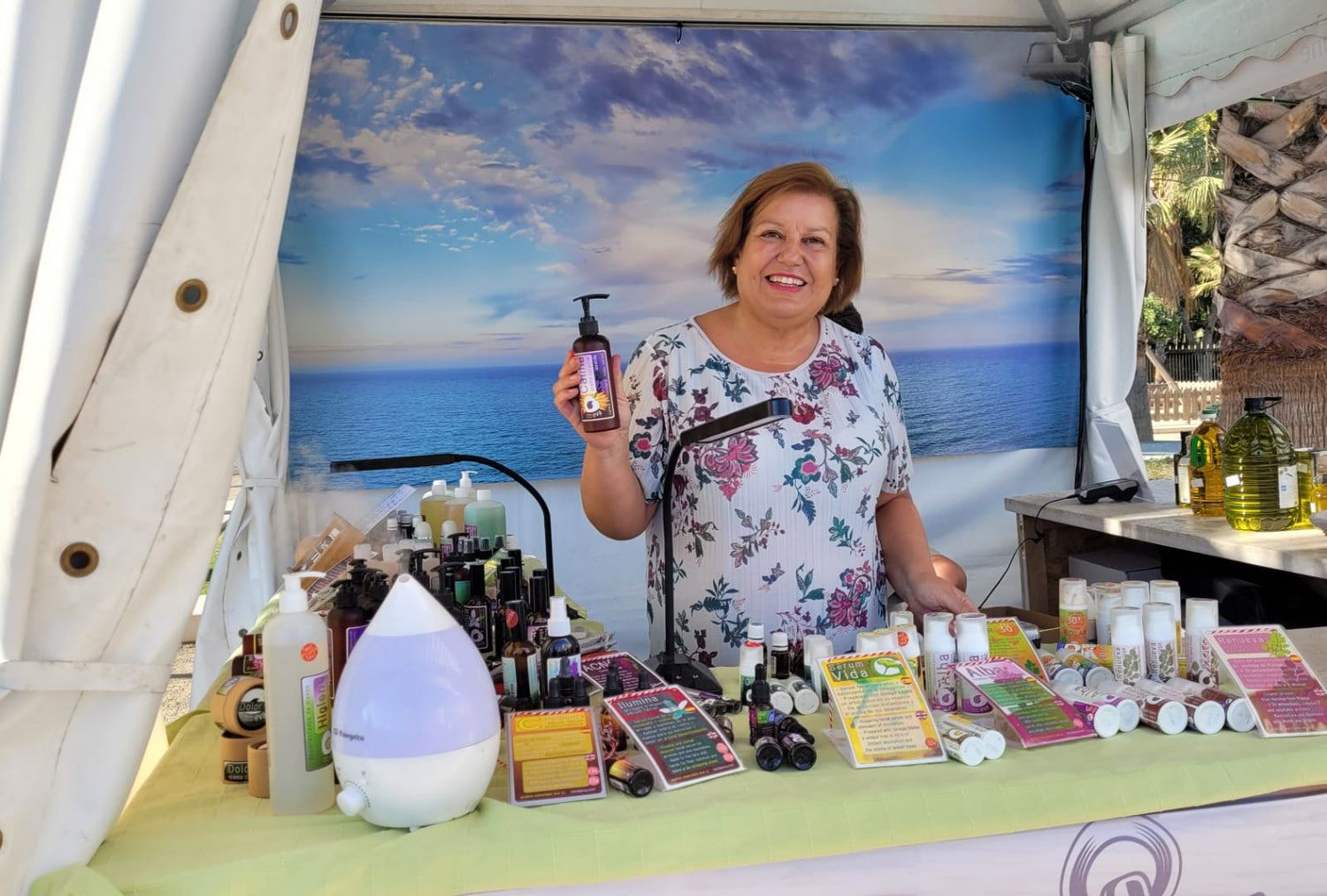 25 years of experience
Eva Zomeño is the creator of this wonderful range of natural skin care products. Year after year it brings out new products for all daily needs.