Regular price
Sale price
$8.00 USD
Unit price
per
Sale
Sold out
Lemon essential oil (Citrus Limonum) It is used in many areas as aromatizing and of course in perfumery. Their Fresh, vivifier and bubbly aroma We are excited and happy. Evokes cleaning and sunny summer days, so it is often added to Natural formulas for home cleaning.
But for its properties it is also an essential oil Very used for therapeutic purposes, a great remedy of aromatherapy that will be very good to have reservations in our natural kit.
Lemon Essential Oil Properties
Lemon essential oil It is extracted from the lemon peel. In 2000, it was discovered, thanks to phylogenetic studies that, contrary to what was thought, the lemon is not a tree from China and India, but also He was born in the Mediterranean In the 5th century B.C. as a result of hybridization between the bitter orange (Citrus Aurantium) and El Cidro (Citrus x Medica).
To preserve its properties, essential oil It is obtained by cold pressure Thanks to mechanical procedures that break the small stretch bags that hide in the skin of the lemon. Once filtered, it is packaged and we have it ready to use and enjoy it a thousand ways.
The lemon essence is, without a doubt, indispensable for its great therapeutic value. These are its most outstanding properties:
If we take the annoyance of smelling the lemon essence we will observe that

 

Sensation of cleaning

 

He moves especially to the lungs, but also to the mind. The lemon

 

DECONGESTITION AND CLEAR.
In turn, it is very common to notice, when smelling it, that we salivate, that indicates that it has

 

digestive properties.
The lemon essence is

 

ideal to purify air,

 

So it can be used in diffusion to prevent colds, especially in winter, and whenever we need to maintain a clear mint, an optimal concentration and above all good humor.
In

 

scientific studies rECIENTS It has been proven that the lemon essence has

 

Anxiolytic properties. These properties are attributed to the main molecule of this essence: Limonene. We find this molecule in most citrus essences and are currently being studied by their promising antitumor properties.
It helps us to

 

improve liver function, favors digestion, has purifying properties and, as if that were not enough, it is a

 

fantastic anti-aging active

 

for the skin.
WHAT IS IT FOR
For its properties, lemon essential oil will be very useful in the following situations:
1. To improve concentration
If you have to perform tasks that require a lot of concentration or have to study for many hours, the lemon essence is perfect. Stimulates mental clarity and concentration, Help reduce stress levels and produces feeling of well -being.
For this end, Use it in a diffuser adapting the amount of essence to the model you use.
2. To avoid dizziness in the car (children from 3 years)
In this case it is best to take the lemon essence orally:
Prepare a flag with dropper (5 ml).
Put 2 ml of lemon essence (about 60 drops) and complete with olive oil, add 2 drops of vitamin E to be better preserved.
Before going on a trip, deposit 1 drop in the tongue.
Repeat if necessary during the trip.
For children from 1 year and a half: Dilute 1 drop with a little compote. It is also taken before leaving.
Both in one case and another, it will also be useful to smell it. In this case it deposits 1 drop of lemon essence in a handkerchief of paper.
3. For digestion and liver (adults)
Take 2 drops of lemon essence with a little olive oil 3 times per day for 15 days. You can rest for a week and repeat 15 more days.
4. For bad breath and to prevent caries
Lemon essential oil is ideal for keeping fresh breath and protecting against decay. When you go brush your teeth, Add 1 drop of lemon essence in toothpaste.
Contrary to lemon juice, lemon essence does not damage the enamel of the teeth.
5. As skin anti -wrinkles
Lemon essential oil favors collagen production and prevents skin sagging. You can prepare a single but Effective anti-aging serum With the following ingredients:
5 ml of grenade vegetable oil
10 ml of jojoba vegetable oil
15 ml of extra virgin olive oil
15 drops of lemon essential oil
4 drops of vitamin E
Pour the mixture into a jar with dropper or dosing and apply ornas in the face and neck each night.
Use in the kitchen
The lemon essence is an option Ideal to aromatize dishes and desserts.
Now, to enjoy its digestive properties we will use it in preparations that have not needed cooking, because heat alters the therapeutic properties of essential oils and essences.
It is an essential oil suitable for the whole family used in the proportions indicated next:
Fish:

 

Dilute 2 drops in a soup spoon of olive oil and distribute on fish just before serving.
Salads:

 

Add 2 drops to your dressing.
Guacamole:

 

Add 3 drops just before serving.
Pastry and desserts:

 

In cakes, muffins, cookies add about 10 to 15 drops.
Fruit salad:

 

Calculate 1 drop per person.
Yogurts, jams:

 

It is enough with 1 drop by yogurt or jar of jam.
Smoothies:

 

Add 1 to 2 drops per glass, previously diluted with a little honey or coconut syrup.
Cocktails:

 

Just 1 drop per previously diluted vessel with a little coconut syrup or syrup.
Precautions and contraindications
The lemon essence It has no dose contraindications that are usually handled In aromatherapy.
It is important to take into account your Phototoxicity. It should never be used pure in the skin and we should not expose ourselves to the sun if we have used a preparation that contains it.
It can be used during pregnancy and breastfeeding and in children respecting the indications and precautions for use. In some specific cases it can be used in children from 12 months.
Ingredients

Made with 100% Natural Essential Oils
How to use?

With essential oils, avoid contact with sensitive areas.

Serums with oils can only be applied at night.
Shipment

Spain:

1-2 business days

Free shipping from €50

Europe:

5 working days

Free shipping from €100
returns

Due to the content we do not accept returns.

If you have any problems you can always contact us by email.
Compartir
View full details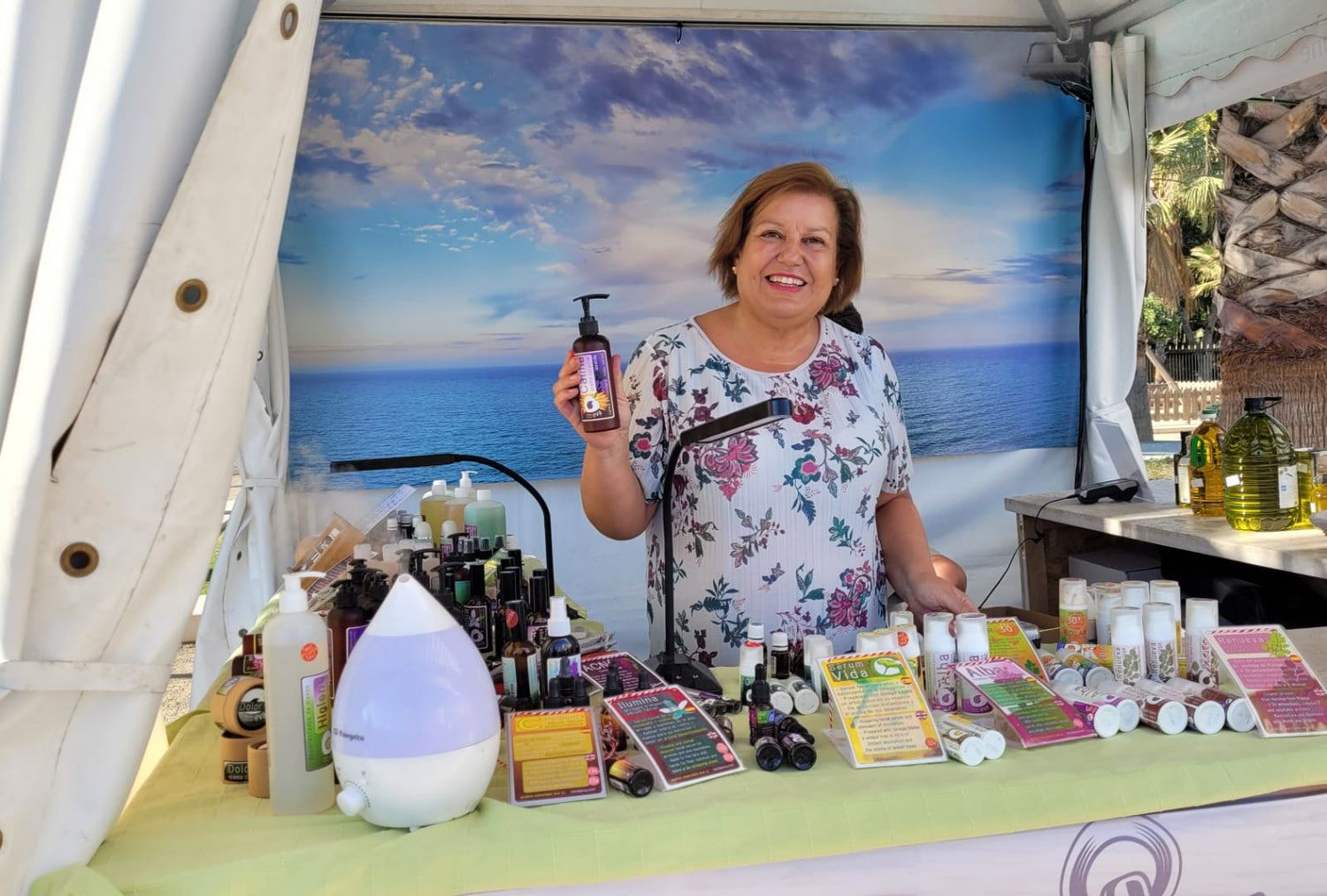 25 years of experience
Eva Zomeño is the creator of this wonderful range of natural skin care products. Year after year it brings out new products for all daily needs.