Regular price
Sale price
$11.00 USD
Unit price
per
Sale
Sold out
Lavender (Lavandula angustifolia or lavandula officinalis) It is a perennial plant with narrow and long leaves of a silver green. The flowers go from an intense Malva to grayish blue and are born at the top of long stems that grow in the center of the plant. This plant comes from southern Europe, especially in the coastal areas of the Mediterranean. Its name comes from the Latin "washed" which means: wash, purify.
Lavender essential oil is one of the most versatile. Its aroma is very intense, sweet, with floral-herbaceous touch and a pale yellow color. Formerly this oil was already used as therapeutic, in millenary beauty treatments and as perfume.
Its aroma has traditionally been associated with child hygiene for its soothing and relaxing properties
The essential oil is extracted by the steam distillation procedure of its fresh floral outbreaks. Which consists of placing the plant material on a grid through which water vapor is passed to 110 ºC, in this way, the plant gives off the steam -shaped essence that passes through a cooling serpentin and transforms into a liquid state, As essential oil is usually lighter than water, floats and separates easily.To obtain 1 kg of lavender essential oil, 250 kg of fresh flowers are needed.
Properties
It is an essential oil that contains many active ingredients that make it A great ally in cosmetic applications and highlight in its ability to restore emotional balance.
It contains more than 100 chemical components in its composition, the ones that predominate the most for its high percentage are the linalio acetate, linalol, lavandulil acetate, lavandulol, cineol, terpineol, limonene, ocimeno and cariophilene.
All these compounds grant the essential oil of lavender numerous applications both in cosmetics and in aromatherapy treatments.
Aromatherapy
Its aroma flora and fresh

 

It has sedative effect,

 

helping in states of nervousness, anguish, depression and insomnia.
In massages

 

Help relax muscle tension

 

and is anti -inflammatory.
It is a great

 

insect repellent

 

And it is also very effective in disinfection of bites.
Skin benefits in cosmetic applications
For its outstanding regenerating action,

 

It is one of the most indicated to treat sensitive skin,

 

With dermatitis, spoiled, and skins with wounds or burns.
In addition, it is very good regenerator, stimulates cell metabolism and increases the elasticity of tissues, so

 

It is a good ally against wrinkles.
It has healing properties,

 

Helps keep the cellular tissue firm

 

and it is very useful to combat stretch marks, and acneic scars.
It is a good balancing of fatty skins,

 

Regulates excess fat, cleans pores and provides hydration.
It is one of the few essential oils that

 

can be applied without diluting

 

Even in child use, being very conducive to child cosmetics.
Because of its powerful healing and regenerating action, we include in lavender essential oil in cosmetics destined on children's skin, delicate and even with dermatitis and irritation problems.
Ingredients

Made with 100% Natural Essential Oils
How to use?

With essential oils, avoid contact with sensitive areas.

Serums with oils can only be applied at night.
Shipment

Spain:

1-2 business days

Free shipping from €50

Europe:

5 working days

Free shipping from €100
returns

Due to the content we do not accept returns.

If you have any problems you can always contact us by email.
Compartir
View full details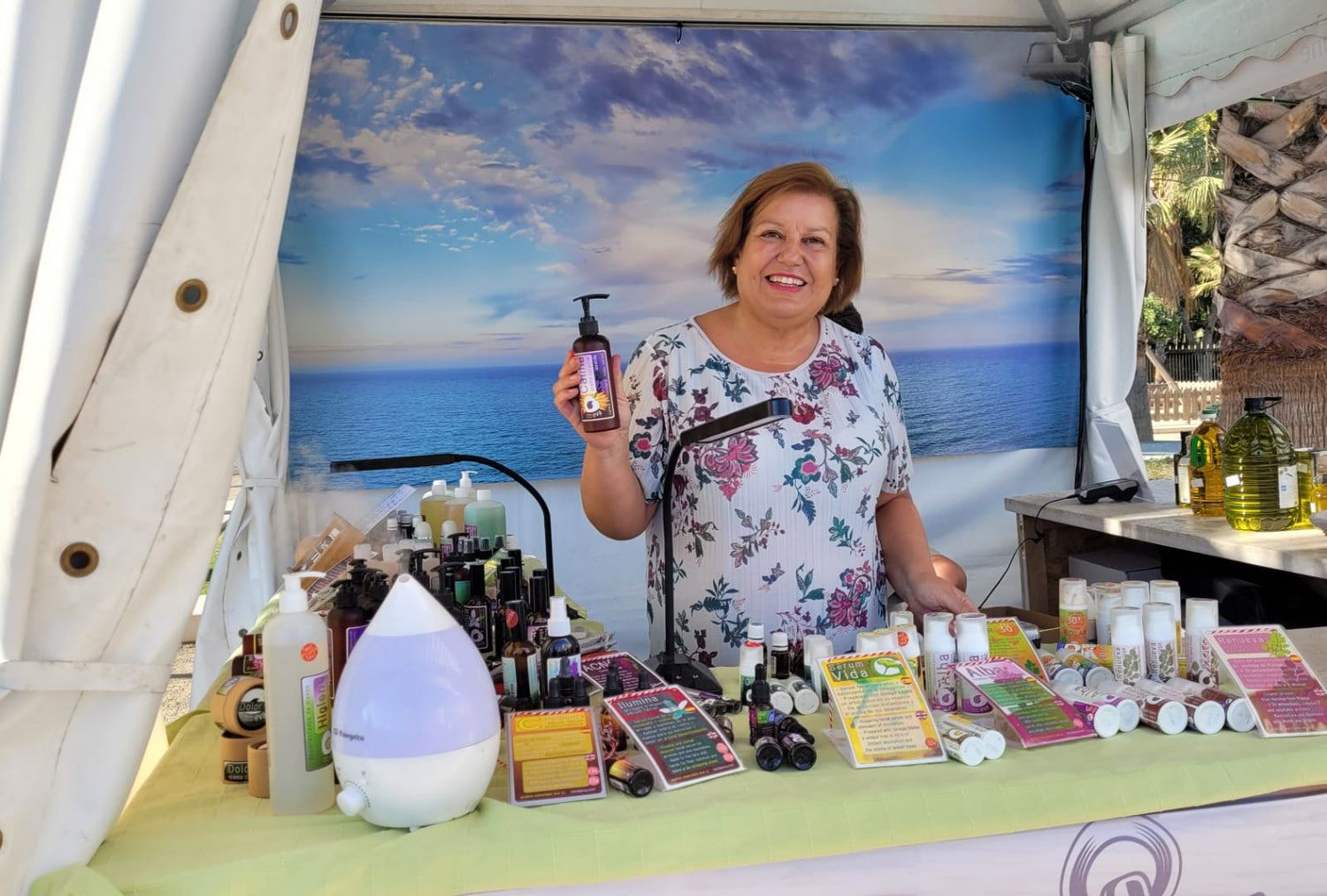 25 years of experience
Eva Zomeño is the creator of this wonderful range of natural skin care products. Year after year it brings out new products for all daily needs.